Attorney Chris Corpus has Achieved AV Preeminent® Rating
Elyria, OH September 18, 2019 – Attorney Christopher Andrew Corpus has Achieved the AV Preeminent® Rating – the Highest Possible Rating from Martindale-Hubbell®.
Chris Corpus of Corpus Law Inc, a lawyer based in Elyria, OH whose primary area of practice is Business Law, has earned the AV Preeminent® rating from Martindale-Hubbell®. This rating represents the pinnacle of professional excellence. It is achieved only after an attorney has been reviewed and recommended by their peers – members of the bar and the judiciary.
Martindale-Hubbell® has confirmed that attorney Chris Corpus still maintains the AV Preeminent Rating, the highest possible rating for both ethical standards and legal ability, even after first achieving this rating in 2011.
Chris Corpus commented on the recognition: "The Martindale-Hubbell AV Preeminent Rating is a credential highly valued and sought after in the legal world. It used to be a sort of secret among attorneys who used the rating as a first screen when they needed to hire a lawyer they did not personally know. Now, thanks to the Internet, the Rating is a great way for anyone – lawyers or lay people – to use to screen lawyers. I am thankful to my peers who nominated me for this distinction, and proud to have earned this, the highest possible Martindale-Hubbell rating."
Corpus Law Inc provides its clients with a wide range of legal services. These legal services address the various legal issues which a business will face or encounter throughout the life of the business. The practice areas include: general corporate, corporate governance, contracts, employment, internet law, domain name law, trademark, and real property.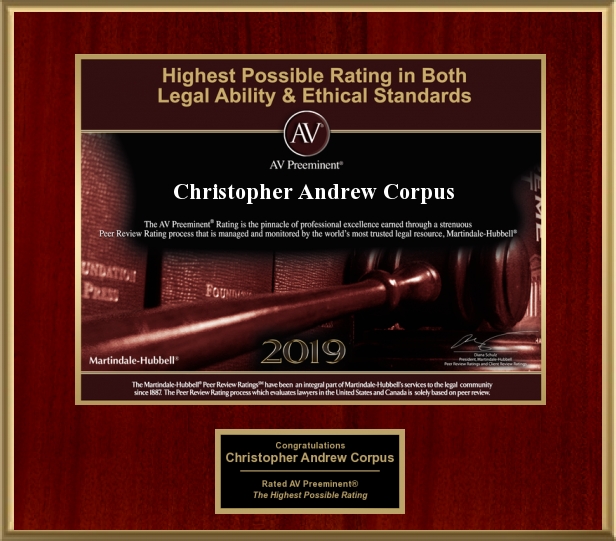 The plaque shown here commemorates Christopher Andrew Corpus's recognition.
To find out more or to contact Chris Corpus of Corpus Law Inc, call 216-973-2475.
As a result of this honor, American Registry LLC, has added Christopher Andrew Corpus to The Registry™ of Business and Professional Excellence. Search The Registry™ here.
This press release was written by American Registry, LLC, with approval by Martindale-Hubbell as well as approval and/or contributions from Chris Corpus.
Talk to Chris and learn how he can help your business.
Schedule a free consultation today.
FREE 30-MINUTE CONSULTATION
Schedule your free no-obligation consultation today!
This article does not provide legal advice or create an attorney-client relationship. If you have any questions or would like to learn more about this topic or if you have other legal questions, do not hesitate to contact Chris Corpus, Esq. of Corpus Law Inc at
216-973-2475.
Copyright Christopher A. Corpus 2016.